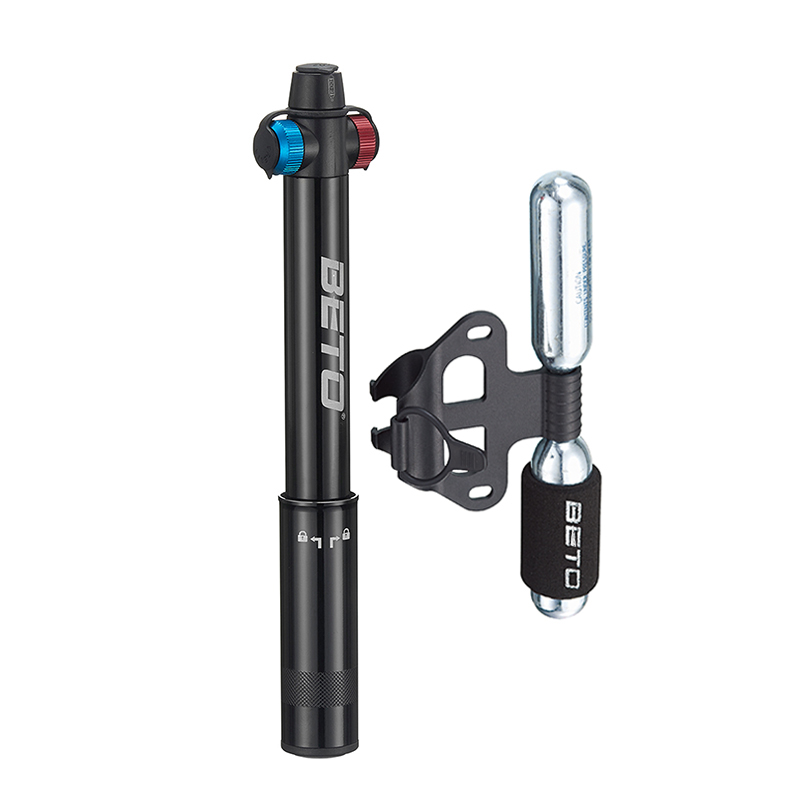 WARNING

Keep CO2 cartridge out of reach of children.
To avoid frostbite please DO NOT touch CO2 cartridge body when using.
Do not store CO2 cartridge in temperature above 120°F, for example car trunk, or under direct sunlight.
Before unscrewing CO2 cartridge from inflator hose, always unscrew half turn and wait for few seconds to leak out residual CO2 completely.

TH Head Patented

USA PAT. 8402987
DE PAT. 102011014959
Taiwan PAT. I395677
China PAT. 201010509395.X

Mode One

---

Mode Two

---

Model NO.
Color Options
Weight (g)
Length (cm)
Max PSI
Special Features
Material
Handle/Barrel
CO2-008A
BK/SL
80
19.6
160
Hand Pump/CO2 Nozzle
2 pcs CO2 Cartridges
Alloy/Alloy

" BETO's QikFill Supreme CO2 pump mount on lower bar with two 16g cartridges.
Easy inflate CO2 to tire and pump after if needed. Good for long distance ride or training.
I'm not afraid to get fat tire anymore!! "
by fans Allie C. experience.